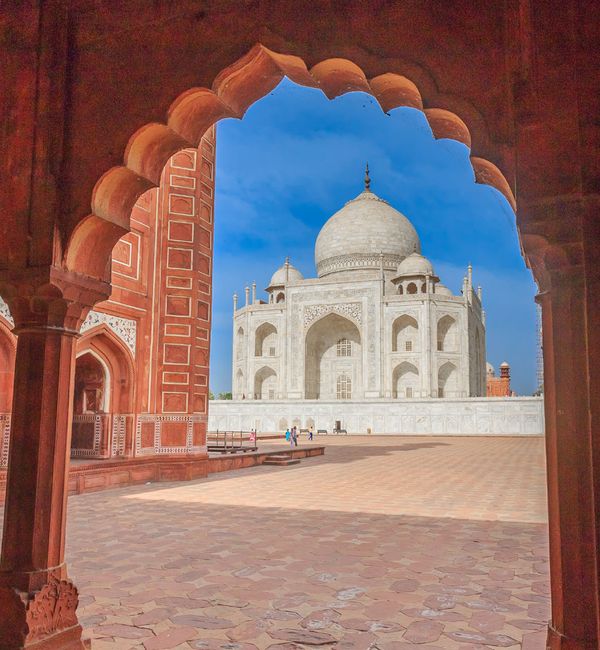 Taj Mahal
The Taj Mahal is a highly revered and iconic tourist attraction of India. It is located in the city of Agra in Uttar Pradesh, on the southern banks of the Yamuna River. Known for its awe-inspiring beauty and architectural splendour, it is an expansive Mausoleum that is counted amongst the world's most cherished and must-visit UNESCO World Heritage Sites. Taj Mahal means the Crown Palace!
Construction
Made from beautiful white marble, the Taj was built over several years, from 1631 AD to 1648 AD. It was the Mughal Emperor Shah Jahan who commissioned the construction of the Taj in loving memory of Mumtaz Mahal, his wife. When Mumtaz Mahal was alive, the emperor had given her his promise that he would build the Taj for her.
It took over twenty thousand workers to construct the Taj Mahal including thousands of skilled craft persons, stone cutters, sculptors, in layers, and calligraphers.
Architecture
The Taj Mahal is an exquisite example of Indo-Mughal architecture with four towering minarets, a 35-metre central dome, arches, pathways and green gardens. As you make your way towards the Taj, you will notice the lovely fountains that beautify the pathways, adding to its charm. Take a moment to pause and admire the stunning inlay work, geometric patterns, floral elements and semi-precious stones that enhance the appeal of this one-of-a-kind monument.
The exterior portion of the Taj Mahal, the Taj complex and the interiors are made of several components. Some of these include the Mausoleum, Minarets, Riverfront Terrace, and Marble Platform, the Gates, Mosque, Sandstone Buildings and walkways, etc. Its interiors comprise of the Tomb, Tomb chambers, the Screen and the two Cenotaphs.
Another noticeable feature is the beautiful calligraphy. You can see inscriptions in the Arabic language on the mausoleum as well as the gateway.
Tourists
Every year, tourists from all over the world come to Agra to witness the aura and magnificence of this larger-than-life monument, considered to be a symbol of love. Tour guides are available to give you a detailed tour of the Taj Mahal and discover its various aspects. To enter the complex, you must purchase a ticket.
The moment you lay your eyes on the Taj Mahal, you will feel mesmerised by its untouched glory that has stood the test of time. Couples come here to witness the deep and unending love of the Emperor for his beautiful queen. A major attraction is to get your picture clicked in front of this world-famous landmark in the company of the one you love.
As the day turns into evening and then night, the Taj Mahal stands tall, showcasing its many facets and looking like a dream to intrigued onlookers. On a full moon night, the Taj Mahal looks even more glorious, and many travellers plan their visit to the Taj accordingly.
Do make sure the Taj Mahal features at number one position on your list of must-sees in India!