Top 10 things to do in Agra
February 21, 2021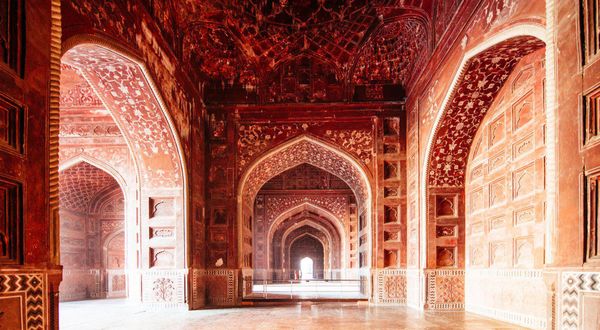 The country of India is an eclectic culture of unique individuals, colorful history and distinct landmarks. In fact, visiting just one city can fill an entire vacation's itinerary. If you're considering a trek to India, discover the beauty and wonder of the city of Agra. The people and history will charm every traveler and encourage you to learn more about this culture and region.
Taj Mahal
As one of the world's most recognizable landmarks, the Taj Mahal is definitely a destination to put on your bucket list. This grand mausoleum is a testament to love with both husband and wife entombed on the premises. Millions of tourists every year will visit Agra for this landmark alone.
Be sure to take in all of the wonders that this site offers. The marble materials are a sight along with the architectural style of the region. The Taj Mahal is a beautiful representation of India's culture as it's evolved since the 1600s, which is the property's original construction period.
Kachhpura Village
Become one with the community by visiting a real Indian village. Kachhpura Village is a short walk away from the Taj Mahal. Take the Mughal Heritage Walk where guides can help you with sightseeing. The village stretches out from its humble buildings with locals selling their goods and services.
This excursion is always full of surprises. You never know what the locals will have for sale that day. Their goods are much more exciting than the standard tourist pieces offered at the more popular shops. Spending your time and money in this village will help the locals with their quality of life as you discover another side to Agra.
Mehtab Bagh
Take a side trip to the moonlight garden that's only a few minutes away from the Taj Mahal. You can actually see the mausoleum from these gardens that are kept up with precise skill. Many people enjoy a stroll in these gardens because it offers a reprieve from the crowds that can grow quite large at the Taj Mahal. Simply complete your visit before sundown when the facility closes.
The Old City
Feel like a local by visiting the Old City. You'll discover a vast arrangement of narrow walkways and surrounding buildings. Along the walkways are locals who sell almost any item you can think of; spices, fabric and countless other items are on display.
If you're concerned about losing your way among the walkways, there are always guided tours that are available for a fee. Explore the walkways where other hidden landmarks can be found, including the Mankameshwar temple. The Old City is densely populated, and it also has its highlights as you dive deeper into the area.
Lesser Known Tombs
With your excitement over the Taj Mahal satisfied, consider looking at other tombs around Agra. There's a smaller building referred to as the "Baby Taj" that houses Itmad-ud-Daulah. Many other lesser known tombs are nearby too. They have their own stories and ornate decorations. The crowds can be much smaller around these areas as well.
Many of the tombs are built for powerful emperors and a few of their wives. Learn about their stories to get a well-rounded view of Agra's history.
Agra Fort
Red sandstone is the material of choice at the Agra Fort. This exquisite representation of 1600s construction might take a few hours of time to truly explore. Many different areas are found within this fort, such as courtyards and towers. Stroll around the fort and stay until nighttime when a light show is usually offered. This landmark can be a budget-friendly option for most tourists.
Sadar Bazaar Market
Give your taste buds a treat by heading over to the snacking area found at the Sadar Bazaar Market. Here you'll find local foods that are refined by masters of their trade. Look for pethas, samosas and chickpea-flour crepes. Agra's delicacies are simple yet complex in flavor. Walk around the snacking area to see all of the foods being made fresh to order. By sampling several items along the way, you gain a better understanding of the Indian culture.
Akbar's Church
Many of Agra's landmarks are based on the religious dedication felt within the Indian culture. There are landmarks that date all the way back to the 1600s, including Akbar's Church. It's a gorgeous representation of the time.
Make your trip to the church an experience by taking a rickshaw around town. These small vehicles are pulled by local people who're well versed in the region's culture and history. Get a personal look at the church with the rickshaw driver's help. It's a memorable experience.
Catholic Cemetery Agra
A fascinating outing in Agra might also include the Catholic Cemetery Agra. It's a resting place unlike any other. There are great buildings and landmarks built on this property to show off the grandeur of the time. Many of the souls resting within this cemetery are entrepreneurs and explorers from the 1700s and 1800s. This beautiful location is often overlooked by other tourists, which makes it a reprieve from the crowds on most days. Ask about the souls' stories as you stroll among the various structures. It's a sight that shouldn't be missed.
Vegetable Market
Encourage your entire group to head out early to the vegetable market before the sun gets too strong. You'll experience real life in Agra with colorful vegetables lined up for sale. Purchase a few interesting items to try on your own. The rich countryside allows many plants to be grown and distributed across the area.
There are guided tours to the market as well, but don't hesitate to explore on your own. The local people are always excited to explain their goods with pride in their voices.
Planning out any trip to Agra is always a smart idea. Research lodging, food options and ticket information first. With a solid idea of how you'd like to spend your time, a trip to Agra will be unforgettable.