Your Comprehensive Guide to the Kheerganga Trek
May 12, 2023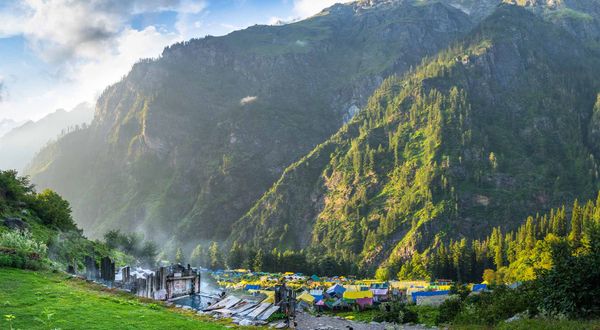 India is a huge country with many different regions, from dry deserts to snowy mountaintops. An area that's soon to be a favorite among adventurers is Parvati Valley. Found in Northern India, this valley is home to a spectacular hiking adventure with the Himalayas overlooking the land. The Kheerganga Trek is famous for its breathtaking views and relatively easy hiking terrain. Get to know everything there is to know about Kheerganga Trek right now.
Choosing a time of year
Trekkers must plan out this adventure beforehand. In essence, the weather dictates when visitors should explore the land. Northern India has snow in the winter and monsoons in the summer. Any trails in the mountains are treacherous during these seasons.
As a result, most travel experts suggest trekking in May, June, September or October. The region's weather remains moderate during these months. Comfortable weather also means that the locals will have their stores and other landmarks open to the public. Inclement weather will often force these facilities to close. As a result, visitors may have few options during their vacation. Pick the spring and fall months in order to enjoy every inch of Kheerganga Trek.
Knowing your physical limits
Anyone who can walk and enjoy nature is invited to the Kheerganga Trek. However, it's important to be honest about your physical fitness. If you don't walk a lot on a regular basis, try to walk in your neighbourhood before even venturing to the state of Himachal Pradesh. The Kheerganga Trek has several different routes, but it's still roughly 12 to 13 km long. This distance translates into a five- to six-hour walk. If you have any injuries or preexisting conditions that might be aggravated by this trek, it's best to try a different vacation in India.
Trekkers should also be aware of the altitude they'll face during the Kheerganga Trek. Depending on the trail section, trekkers will be 2,800 to 3,000 meters above sea level. Altitude sickness is a possibility. Ideally, train yourself before the trip by trying a walk in a hilly region. There's less oxygen at higher elevations, which impacts the human body in different ways. Everyone reacts differently to elevation differences. It helps to know if you have any issues with altitude sickness before heading to this region. The Himalayas are known for their tall mountains and grand valleys.
Planning how to get to the trek's start
The reason why the Kheerganga Trek is so beautiful is its remote location. It's hidden up on the ridges surrounding Parvati Valley. Getting to the beginning of the trail is the first challenge.
The closest town to the trek is Barshaini. Visitors can take a private car, bus or railway to this town. Because many visitors fly into Delhi from their homes, taking the bus tends to be the most efficient transport to the trail. There's a bus that starts in Delhi, drives overnight and drops you off in Bhuntar. Hop onto another bus for Barshaini, and you'll be at your destination after only two to three hours.
Taking the bus gives you a chance to look out the window at the surrounding landscape. You may not be on the official Kheerganga Trek right now, but the bus ride travels through plenty of regional highlights.
Alternatively, taking a train to Pathankot Railway Station is an option. You'll still need to take a bus afterward, however, to make it all the way to Barshaini. Most travelers simply opt for the bus.
Deciding on a trail
Kheerganga is the destination, but the journey is part of the excitement. Before you head out from Barshaini, choose one of three trails.
Tosh Village is one of the most popular routes because it takes you through this small community. It's brightly painted with many places to stay overnight if desired. Many visitors enjoy the expansive views of the mountains and river below. Tosh is a great rest stop before heading out to Kheerganga.
For the more advanced trekkers, the trail through Kalga Village offers dense forest and plenty of wildlife to observe. Because only a few people move through this trail, it might be difficult to manage for an amateur hiker. Keep this in mind when you plan out your trip.
The most common route to Kheerganga is through Nakthan Village. It's technically shorter than the other trails, which is perfect for beginner hikers. The Parvati River is a constant companion too, so everyone can enjoy this pathway without too much effort.
Learning about trail highlights
Most treks start out at Barshaini, where you can marvel at the dam built there. In fact, this entire town is perfect for photos with loved ones. It's the beginning of your journey.
Depending on the chosen path, discover several towns that define the natural beauty of Northern India. Tosh, Rudra Nag, Nakhtan and Kalga villages are just a few stops along the way. Take advantage of these rest stops by indulging in the local food and tea. Regardless of the time of year, a spot of tea rejuvenates the mind and spirit.
Because there are three main pathways to Kheerganga, each trail will have its distinct differences. A pine forest is a highlight for many on the trek including Kalga village. The intense shade can be a reprieve from the hot sun during the warmer times of year. You'll also find wildlife among the branches if you intermittently stop and observe.
The main attraction on most of the trails is the Parvati River. It winds through the valley with an echoing sound. This water has carved out its pathway through the mountains for generations.
During the trek, visitors might come upon a few temples that are sacred to their followers. Don't be surprised to find people praying at the temples almost every day. This entire area is full of religious meaning to certain groups.
When you reach Kheerganga, the main attraction is the natural hot springs. It's referred to as the Parvati Kund. Soaking in its waters is both a physical and mental release. The trek can feel like a long journey, so the warm waters soothe the muscles. The surrounding views are breathtaking at the same time. The hiking distance is worth it for these amazing moments.
Kheerganga has a small community who're pleased to serve visitors with food, drinks and souvenirs. Explore the area because most people stay overnight before trekking back.
Ideally, camp out under tents in Kheerganga. The sky is often alight with stars. Visitors can enjoy a campfire too. Eat, meditate and feel the pulse of the area as the fire warms you into the night. The long hike and relaxing sensation at the campsite will lull you to sleep.
Start out early on the trek back so that you can see other highlights along the way. Travelers can either hike the same way back or opt for an alternative route. Keep your physical limitations in mind as you select a route too. Some visitors report that the way back seems easier because of the descending elevation. Take your time on the journey back so that you can take in the sights one last time.
Thinking about personal needs
You're on an adventure, but it should still be within your comfort zone. You should find bathrooms at the villages along your trekking path. They might be separate structures or part of a business, such as a restaurant. At times, there may be communal bathrooms too.
Don't worry too much about hauling a lot of fresh water for drinking along the trail. There are plenty of opportunities to fill up your bottle with fresh water. Simply keep an eye out for small ponds, waterfalls or the nearby river.
Ideally, sleeping over for the night is recommended for the Kheerganga Trek. Taking on a round trip from Barshaini doesn't allow for any real enjoyment of the surroundings. In fact, it might be too tiring.
Plan on staying in Kheerganga at the guest houses or camping nearby. Reservations are highly recommended if you want to stay at the guest houses. There will be a fee, but you'll have all the comforts of home.
Packing for trekking comfort
Remind yourself that you'll be walking and hauling your own items the entire way. The trek is long, so don't pack a heavy backpack. Add only the most essential items to the pack, such as energy bars, dried fruits and other snacks. There's no need to pack entire meals. There are small villages along the way that have food for sale.
Wear comfortable walking shoes with some traction to the soles. Add a walking stick to your supplies, and you have a sturdy outfit to take on nearly any terrain. The trail isn't too difficult, but weather can create slippery or dusty conditions. Be ready for anything with good shoes.
Bring a first aid kit too. Simple supplies, from cold compresses to bandages, can solve minor injuries as you make your way across the valley.
In addition, bring along a jacket regardless of the weather forecast. The trail can change from warm to very cold as the sunlight wanes in the afternoon. Jackets give you versatility in any kind of weather.
Following the signs
A truly unique part of the Kheerganga Trek is the signs you find along the way. Some of them are in different languages, or they speak through murals and other images. Pay careful attention to the signs that offer any directions or warnings. They're typically written by locals who know the area down to its last detail.
These caution signs may tell you about a slippery slope ahead or rocky footing, for example. In fact, there are some memorials for lost souls along the way. Take these solemn facts to heart as you journey on. Your trek should be full of adventure without any problems.
Respecting the region
Taking the Kheerganga Trek is often a pilgrimage for some visitors. It's a way to get close to nature. In fact, there are many legends surrounding your destination area. Kheerganga is thought to be the meditation spot of Lord Shiva, for example. The Shiva Temple resides along the hillside with history and spiritual significance.
With these thoughts in mind, locals encourage visitors to respect the various religions and cultures represented in Kheerganga. Keep your voices at a respectable level, and be aware of your surroundings.
Never litter down the trail or at your destination either. Pack away any trash, and dispose of it whenever a receptacle is nearby. Protect this area so that others can enjoy it for years to come.
Supporting the economy
This trek is known to many people across the globe. In fact, it's often a bucket list item; visitors want to see everything as they make their way across this beautiful valley. With this fact in mind, be ready to support the economy at every step.
Start out with a travel package offered by local agents or guides. These packages might include transportation, lodging and guidance about the journey. Whether you're traveling with friends or family, these bundled deals give travellers direction and a good deal overall.
Additionally, support the local economy by eating at the restaurants found along the way. At nearly every stopping point, there's an eatery serving regional food and delectable snacks. Step out of your comfort zone to try these delicacies. Trying something new on a remarkable journey only highlights the experience.
You'll also come across many shops selling items unique to this area. Although you don't want to weigh yourself down for the trek, consider a few items to take along. These souvenirs will remind you of this time in the Himalayas.
Kheerganga Trek is a journey unlike any other on Earth. Take your time, breathe in the fresh air and explore every inch of the trail. India welcomes all visitors to learn about her history and culture. Nature and culture meet along the valley's edge with the Kheerganga Trek adventure.